Experience from Practicing Restorative Justice for Sexual Harm: Trauma, Justice Needs, Participant Satisfaction, Equity, Law, and the Future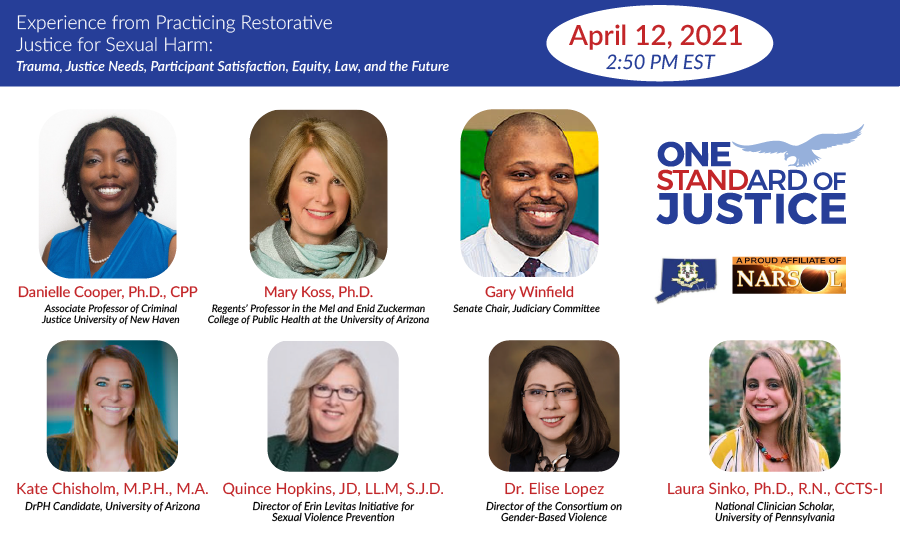 Join us for our 3rd Zoom webinar on April 12, 2021 from 2:50 – 4:50 PM.
We invite you to an interdisciplinary webinar focusing on sexual misconduct and delivering justice that centers on harm and fosters active accountability. Data shows that the criminal justice system may not meet these needs and expectations. There are alternatives.
Presenters will cover different aspects of sexual misconduct, including the impact of sexual assault, the needs of the person harmed, the design and results of using restorative justice resolution in prosecutor-referred cases of felony and misdemeanor sexual assault, and pertinent legal considerations. This presentation is directly relevant to legislators, the legal community, advocates for both people who were harmed and people who did the harm, professionals in sexual assault coalitions, schools, universities, forensic examiners and other healthcare professionals, and community partners. Less adversarial approaches as a response to sexual misconduct can enhance equity among parties and offer constructive community-based resolution.
This promises to be an important presentation on what justice can look like for the person who was harmed. Q&A immediately following the presentations. Please plan on joining us and bring a friend.
Register for the webinar here:
www.OneStandardOfJustice.org/Zoom/Experience-from-Practicing-Restorative-Justice-for-Sexual-Harm
Danielle Cooper Biography
www.OneStandardOfJustice.org/Danielle-Cooper-Bio.pdf
Mary Koss Biography
www.OneStandardOfJustice.org/Mary-Koss-Bio.pdf
Kate Chisholm Biography
www.OneStandardOfJustice.org/Kate-Chisholm-Bio.pdf
Quince Hopkins Biography
www.OneStandardOfJustice.org/Quince-Hopkins-Bio.pdf
Elise Lopez Biography
www.OneStandardOfJustice.org/Elise-Lopez-Bio.pdf
Laura Sinko Biography
www.OneStandardOfJustice.org/Laura-Sinko-Bio.pdf
Supplemental Reading
There's A Better Way To Get Justice For Sexual Assault Survivors
by Allana Vagianos
"The criminal justice system is a pipeline, and it has leaks all along the way," Dr. Mary Koss told HuffPost.
https://www.huffpost.com/entry/theres-a-better-way-to-get-justice-for-sexual-assault-survivors_n_5f6e0673c5b61af20e74e24d